Authorized Retail Outlets ~ Affiliate Accounts
McDel Publishing/McDel Gifts & Gear Love Matters™ design lines are currently available online only here at McDel.com.
Sign Up, Post Links, Make Money!
If you like and would recommend any of our gifts, gear, home decor, etc., create an account in our store, and then check the box that you wish to be an affiliate.
Affiliate programs are one way that website owners spread the word about their products and services. Like most internet affiliate programs, ours is free to join. Sign up is easy, and requires little technical knowlege.
This is not a job offer; affiliates are not employees.
As an affiliate, you simply generate traffic to our website and receive commissions on any completed orders.
How Does it Work?
After your sign up is approved, links with your specific affiliate ID will be displayed in your account.
You just copy and paste these links to your website or social media pages or into an email or text message.
When a user clicks on one of your links, they will be brought to our website and their activites will be automatically tracked by the shopping cart based on your affiliate ID. After the user completes the purchase, you earn a commission on the total sale.
Real-Time Reporting!
Login anytime to check affiliate sales recorded and your commissions earned, paid, and owed.
Program Details
Commission Type: 10% pay-per-sale for each sale you deliver; total sale amount is before taxes and shipping.
Payout Requirements: $25.00 minimum commission balance required for payout.
Payout Frequency: Commissions are paid semi-monthly on all accounts meeting the minimum payout threshhold, and payout reporting requirements.
Payout Reporting: Upon receipt of commissions totalling $250, affiliate will be sent a W-9. This completed form must be returned before any commissions totalling over $400 in the current year are paid. 1099s will be issued annually to affiliates receiving $400 or more in commissions within any given calendar year.
Note: Be sure to click on link you've posted to get 10% on all of your personal orders too, not just orders from referrals!
Get "Fancy"
Sending users to a specific page in the store, and/or adding pictures with links using your unique affiliate ID are also possible. Just contact Kammy for more info.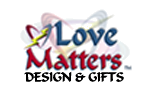 Love Matters

™
Authorized Retail Outlets

Shirts at Homespun
19 different styles, with more to come!
A few styles from our Love Matters™ design lines are available on t-shirts at:
Homespun Shipping & Gifts
Peachtree Shopping Center - behind Enzo's
3225 1-70 Business Loop #A-10
Clifton, CO 81520
M-F 10am-5:30pm, Sat 10am-2pm




Look for Love Matters™ Hats and Mugs too!